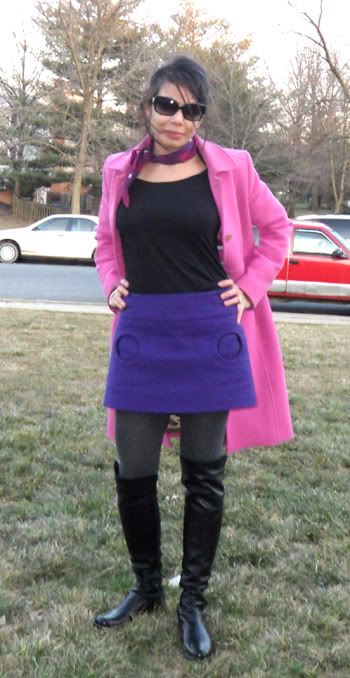 So I got my fabulous new Stuart Weitzman 5050 over the knee boots (50% off in-store at Bloomies!!) and finally found a pair of boots that don't accidentally slouch on me... too much. My ankles are like four inches around, I should have drank more milk while I was growing up!!! But I digress, I wanted to pair with a skirt for work, but definitely had fears that it would be to much for my office.

I ended up wearing my most favorite piece - my Paul & Joe circle pocket skirt. Don't you just love its fun, bright color? I decided on my knit grey tights, which would still show off the boots but give a more conservative feel, and a black top... kinda boring, I know! Since I took the easy way out with a black top I added a dash of panache with a neck scarf - probably my favorite way to jazz up an outfit when it gets warm out! It's super easy, not over the top and feels like just the right amount of Parisian chic. And this one tied my skirt and coat together perfectly! It's got a great heart print, I should have taken a close up! I promise to start taking detail shots from now on.

Hmmmm, you know what this outfit needs?

A PUPPY! snorgle snorgle snorgle