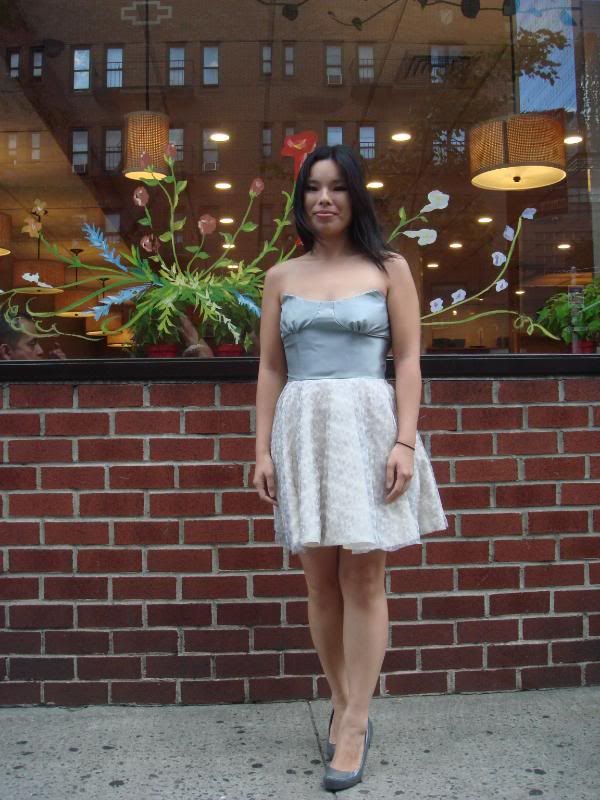 Some of you know that I took a Construction Techniques class at Parsons in the summer. For our final project, we were told we could design a dress, ANY kind of dress we wanted. Being overly ambitious, I conjured up this strapless dress where the top alone has 5 pieces, 3 layers each to include a lining and interlining with boning. The requirements to pass the class were only to have the pattern pieces designed and cut out in muslin, as you can see pinned on my dress form.

After the class was over, I decided I loved my design so much I wanted to carry it through and put it together to be able to wear it. The class, unfortunately, didn't go through the process of putting the garment together. I had to do a lot of research on my own...add to that the fact that I had never used boning!
I found this fantastic silk organza with grey hearts print. I love that the print is not overly girly and almost has an industrial feel to it. I carried the industrial connotation to include the steel-blue silk duchesse satin for the top and finished the dress with an exposed metal zipper. Since the organza is see-through, I made use of this metallic cotton voile I found as the lining for the skirt part. Check out the close-up of the skirt...isn't it lovely the way it shimmers in the light?