I recently was unable to resist a super cute leopard print jacket at H&M. With its shoulder pads, draped front and slim, cropped shape it was the rarely perfect combination of slouchy and flattering on my petite frame! I had never worn animal print to work before (I'm a wuss), but I felt like this could easily be apart of a fashion forward yet office appropriate outfit.

I decided to wear a pink tank since I love prints and brights together (easier than the art of mixing prints). I put on my black pencil skirt to balance that out, but, since I was also wearing black tights, I knew I needed interesting shoes to keep my bottom half from looking boring! I already had color, so I decided to rock my cream cage sandals - love them with black tights!

I'm quite pleased with how the look turned out! Mixing blacks and browns, wearing animal print to work - I stepped out of my comfort zone in more ways than one!

I'm wearing:
Leopard blazer by H&M
Knit pencil skirt by Gap
Pink Tank by Splendid
Camel coat by Banana Republic
Cream cage sandals from Yes Style
Jewelry stolen from my mom's jewelry box


I stole all the jewelry from my mom - I really need more silver necklaces like those to layer together. And, seriously, how fabulous is this jeweled cocktail ring?? And the band is actually a mood ring, it totally changes colors! My mom has the best taste in jewelry - ooo, I just realized she totally needs something by Wendy B for the holidays!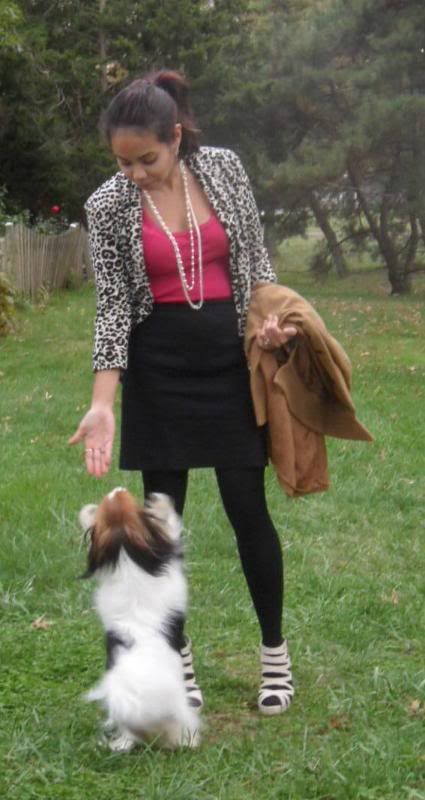 Of course Kyoko looooooves to photo bomb my shots, but hates to pose for the camera when I want her to! So cute and fluffy that all is forgiven though!