I feel like Wendy B called out pleated peg legged pants as the next "thing," but I can't find the post! Maybe it was all a dream within a dream? (FOUND) Either way, I recently bought a pair at my trip to the new Last Call Studio in Rockville, MD.

This was a very new silhouette for me to try, so I sent out a request for styling advice on Twitter. Luckily for me, Lovleyish showed me a great picture of a girl wear a blouse tucked into a pair. I was thinking more tight top since the the pants were loose, but I loved the look so I decided to give something similar a go!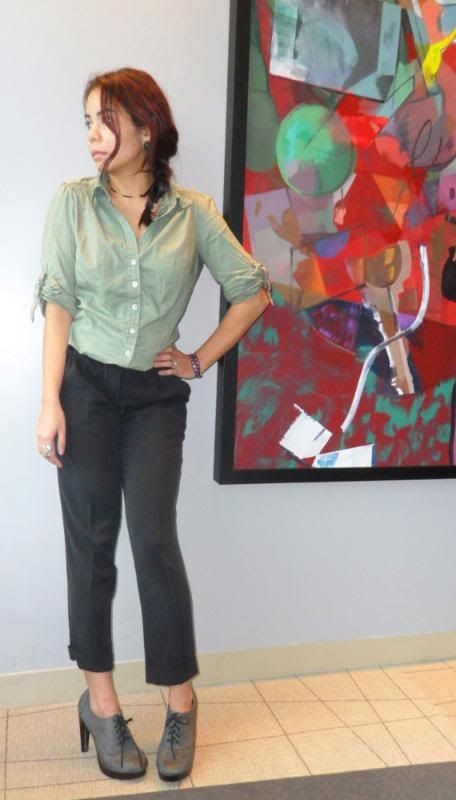 While I still worry that my waist isn't well defined, I was still really happy with my overall look! I managed to pull off a chic outfit without relying heavily on bright colors or prints, huzzah! I think this may be the first time I've worn this button down actually buttoned, not sure what my fear of blouses comes from since it looks great. And I even switched up all my jewelry, pretty amazing considering I wore the same necklace every day for almost two years, ahaha.

I don't know how long it's been since I wore a top loosely tucked into pants (forever and a day), but it sure is a pain to recreate a perfect, slightly disheveled, just pulled out enough tuck every time you go to the bathroom! It's funny, I tweeted that and so many people chimed in, I never would have guessed.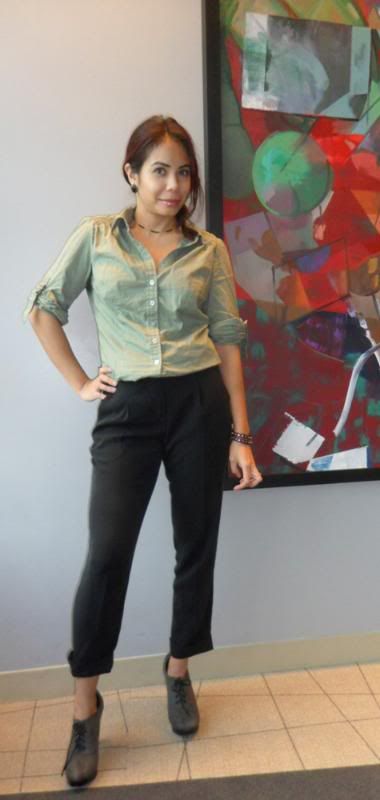 I'm wearing Theory pants from Last Call Studio, a green LOFT button down, oxford booties from Newport News, necklace from Express, purple wrap bracelet from J. Crew, a Wendy Brandes Vampire Diana ring, and earrings pilfered from my mom's jewelry box. Next up I will copy Jennine of The Coveted's latest look and pair them with socks and short boots!