I've been obsessed with rocking a winter white look ever since I saw it styled in one of my recent Lucky Magazines. So when I was given a Land's End Canvas gift card, I knew it would be the perfect time to get some items to perfectly execute my look!

I know what you're thinking, because I thought it too. "Land's End Canvas?? Are you sure this isn't a soccer mom challenge??" But once I began shopping I was dismayed at how quickly I ran out of money; there are tons of fashionable items that are super easy to incorporate into your wardrobe, see:
What do you think of my outfit?? I was TRES happy with how these shots came out, you would think my fiance was a professional photog!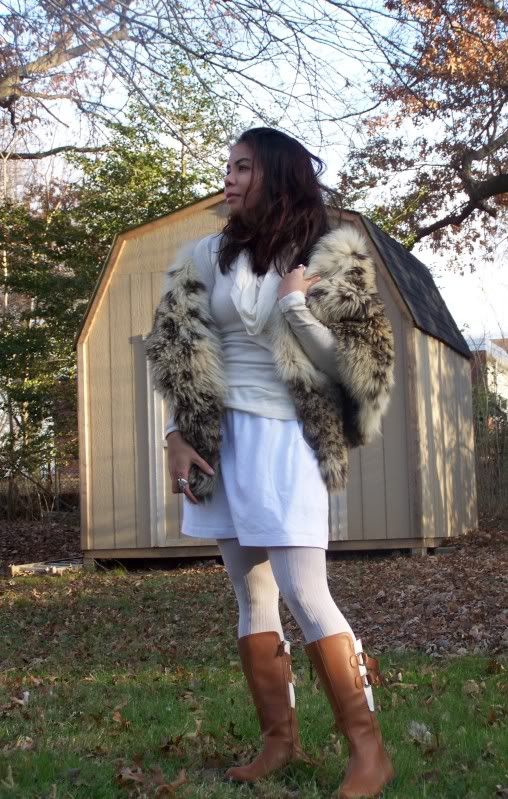 After almost a full year of style challenges, I can tell you that looking "fashion blog worthy" is much more difficult when you don't have bright colors or interesting patterns in your outfit. Here are some tips on rocking a white monotone style:

Different shades of white, like dove, cream or vanilla, add depth and interest to your look! Wearing all the exact same shade can make you look like the ice cream man!

The same cam be said about mixing up textures. Silks, knits and furs are particularly fun to mix together.
A touch of gray or camel doesn't really subtract from your monotone look, they only emphasize it!
I'm wearing: Cowl neck top and cotton skirt courtesy of
Land's End Canvas
, great grandmother's vintage fur cape (please note that I do NOT buy fur, and that the few pieces I have I consider family heirlooms), snow boots courtesy of
Sorel
, tights from
Target
, Vampire Diana ring by
Wendy Brandes
.