Fellow DC blogger, Art of Accessories recently sent out a call to help her shoot her 2010 gift guide and I was one of the people who answered! She wanted us to bring two looks, a Little Black Dress outfit and a holiday party outfit. So what did I wear??
First up was my LBD look. I actually drove over to her house in this outfit and had planned to change up my accessories, but then decided it would be fun to show how one could rock a slightly more casual look.
I'm wearing a T by Alexander Wang black dress, a Betsey Johnson leopard print belt, a purple flannel from Anthropologie, and brown over-the-knee boots courtesy of LOFT. I thought it was kinda fun to mix the leopard print and the plaid, definitely not something I would have tried a year ago!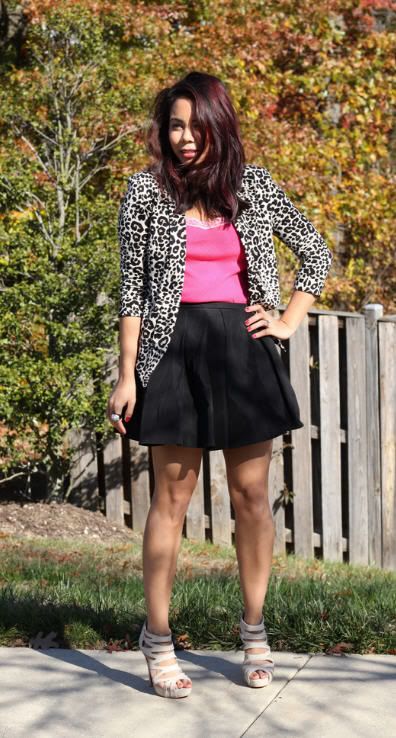 Then was my holiday party look. I was particularly pleased with this outfit, I felt really put together and festive looking!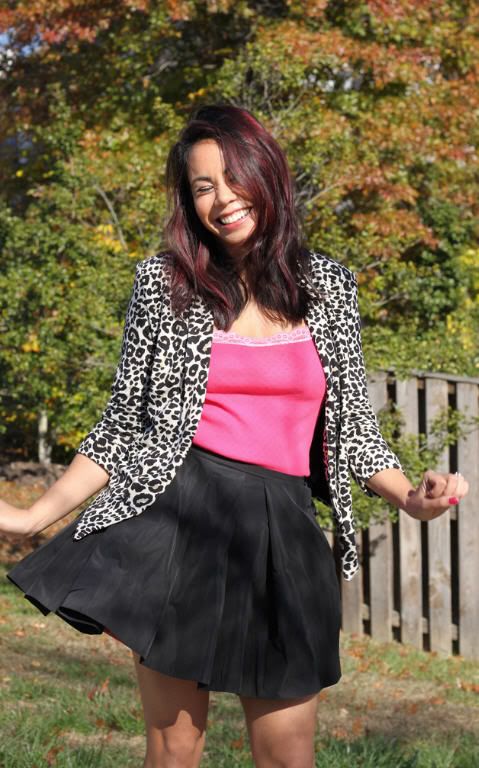 I just wanna dance!! I was trying to show the bright pink petticoat layer of the skirt, but it remains stubbornly hidden - though the tiny tiny glimpse you catch here is kinda fun.

I'm wearing a pink sequin trim cami from United Colors of Benetton, an H&M leopard print blazer, a full black skirt with pink petticoat by Plastic Island, a blinged out ring from Forever 21 and my cage heels from Yes Style.

What do you think of my two looks? Doesn't my hair look great?? It had been done the day before by Sylvia from Noufal Haircolor Studio in Vienna, VA - I recommend highly!! And be sure to check out the entire guide for shopping and style ideas!