My fashion maven mom gave me a beautiful plaid caplet that I always mean to wear more often. For some reason I rarely think about outerwear until it's so cold I have to bundle up in a wool coat! Well, even though it's January, there was a randomly warm day last week and I figured I should rock it while taking Miss Kyoko out for a walk to enjoy the weather!
It comes with a matching plaid belt, but I was inspired to instead pair it with a navy and black bow belt I bought last fashion week. They look made to go with each other! And instead of my regular skinny jeans, I thought maybe I could pull out a pair of flared jeans since they're so hot right now. Hmm, they're a little loose in the knee area, which kinda diminishes the flare effect, but I suppose they'll do.... for now ;)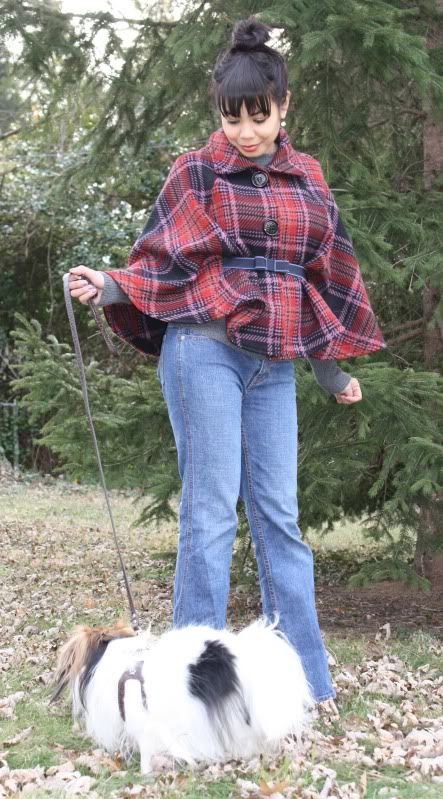 I'm wearing: Nordstrom plaid caplet, stretch bow belt from Anthropologie, C3 cashmere sweater bought from Bluefly, flared jeans from Victoria's Secret, Betsey Johnson drop earrings and my Ken Pavesclip-on bangs!!

The Mr is quite the photog, don't you think?? Now I just need to amp up my modeling - Tyra wold bitch at me for not elongating my neck here, ha.