While certain things came back, like mixed prints and velvet, there were a handful of trends that really stood out to me this season!

Tuxedos
This isn't you're everyday menswear, this is all sorts of formal!! Back in the 1960's, YSL brought Le Smoking Suit to fashionable women across the globe. This look is quite reminiscent of that, elegant and playing with androgony! Designers such as Ruffian, Jason Wu, Ralph Lauren and Yigal Azrouël showed tux-inspired looks. So get yourself some bow ties, white ruffled shirts, sleek jacket (even better with tails), and stripes down the sides of pants this fall!

Frontier Western
Yippie kayeah, mofos! Lots of designers, most notably Diane von Furstenberg and Kaelen, showed western-inspired looks for fall! Some went cozy with southwest prints on ponchos, some went boho feminine with praire skirts and some rocked a dusty utilitarianism! Western shirts are an easy way to rock this trend, but I'm loving the idea of long duster coats - think my 5'1 self could rock that?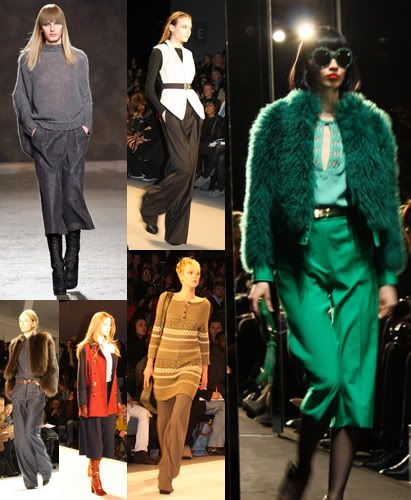 Gaucho / Palazzo Pants
I AM VINDICATED!! I first demanded this come back about five months ago, and apparently the fashion gods listened! Palazzo pants were very common, they're flowy and wide legged. Gaucho pants are pretty much like cropped palazzo pants; they weren't quite as common but some major players did show them, including Diane von Furstenberg, Doo.Ri, and Tory Burch. I still own and wear my pair from high school as lounge pants for around the house. So you KNOW I'll be looking for a new cute pair!

I noticed some other trends, waaaay more than the average amount of red popped up, long maxi skirts and dresses, sheer details - common for spring but less so for fall, and more flatforms, woooo! But I think the top three were the newest and most notable - did I miss anything?

All photos By Vyque and Alyssa or pilfered from Style.com