Oh my, I haven't done a Fashion Education post since last Sept! I have highlighted some up and coming designers, but no established ones that the majority of people in DC still haven't heard of. So today you are all going to learn about Thierry Mugler!

Dita von Teese wearing vintage Thierry Mugler for
Vanity Fair
Thierry Mugler's eponymous label has been around since 1974 and he was creative head until 2003. The women's clothing then took a break until 2009, when Rosemary Rodriguez took over, and now Nicola Formichetti is running the show! The French brand is internationally know as provocative and high fashion.
I think Thierry Mugler is poised for a MAY-jah comeback! There was a serious disconnect when Rosemary Rodriguez was designing...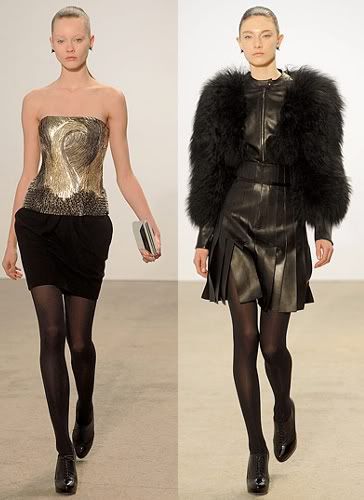 It's not bad, but there's a distinct lack of spectacle here. Overall I can't help but be bored. But just this season was Nicola Formichetti's first collection for the brand. You may have heard his name before, as he is good friend and fashion brain for Lady Gaga! Sounds like a match made in heaven, no??
Ah, all is right in the world! Fierce and fun, I can't imagine how much fun it would have been to attend this show! And Lady Gaga herself closed the show - how fab! A mix of fashion, music and entertainment, I expect great things to come!