So what else did I wear while at SXSW Interactive in Austin? There was just one fashion event that I managed to make, a panel with Indiana of Adored Austin! Obviously I had to look cute for all the fashionistas that would be in one place! But the outfit I wanted to wear did not look so chic on, so I had to scramble to find something.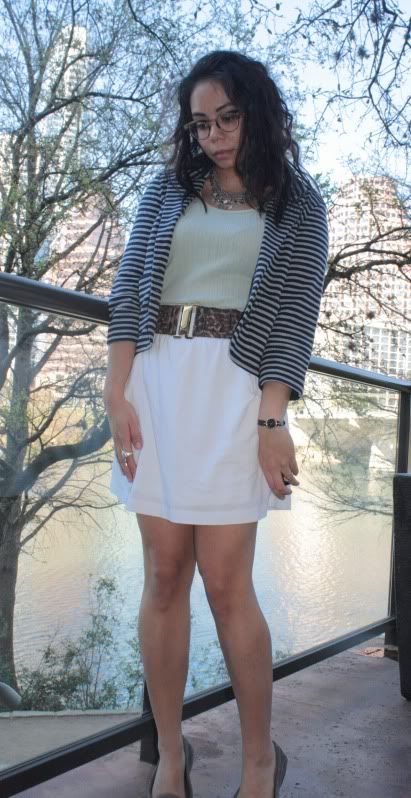 Do you find you gravitate towards certian pieces in your wardrobe in order to elevate an outfit into a "look?" I'm always throwing on the leopard print belt last minute for that very reason! I'm thinking this striped blazer may also function in that regard as well.
I'm wearing: Striped blazer from ModCloth, DKNY pale green tank, white skirt courtesy of Land's End Canvas, necklace courtesy of LOFT,leopard print Betsey Johnson belt, Michael Michael Kors mocassins, vintage Gucci watch, glasses from Oliver Peoples, and my lovely Wendy Brandes Vampire Diana ring!

Later in the day I was waiting for Alyssa to show up for dinner when I noticed this fun purple wall and decided to try and take a few more snaps!