As a Lucky Alpha Shopper, sometimes I get neato presents, like these wedge heels by Baby Phat! They're extremely cute, and perfect for a winter to spring transition outfit!
I've been working on NOT relying on color lately. Now that I've finally up-ed my outfit game I find it's actually much harder to wear neutral pieces. Especially since there was so many tonal color palettes for spring, I wanted to create an outfit inspired by that. The heels themselves are tres cute, comfy enough for the office to happy hour. Besides how I styled them, you could easily wear them with jeans and a tee for a casual look or with a swingy sundress for a garden wedding during the day. And, to be honest, they're a much better quality than I expected! I probably would have guessed they were Nine West or the like - well done Baby Phat!
I'm wearing: Wedge heels courtesy of
Baby Phat
, Rodarte for
Target
lace print dress, chunky knit cardigan courtesy of
Land's End Canvas
, arrowhead necklace and ruched ankle sock from
Urban Outfitters
,
Oliver People
glasses, turquoise ring a present from a friend back in high school, bracelet made by Sarah, earrings and
Eddie Bauer
belt stolen from my mom!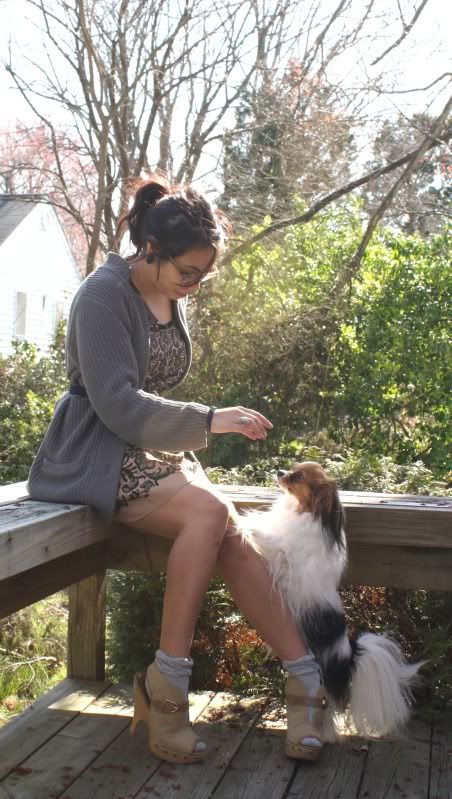 Awww, Kyoko wanted to be in the photoshoot! Really she just wanted some attention - such a needy dog!