Have you ever been browsing for clothes and accessories online and wished the search would just read your mind and know you would never in a million years wear an argyle sweater set!
Well, I just discovered Shop Like, a feature of The Find that shows you items based on your liking preferences on Facebook! The Find has been around for a bit, but I didn't really pay it much attention until I noticed it sponsoring the IFB Evolving Influence Conference! At the recent one they even showed me the upcoming visual search option, something I'm excitedly anticipating!

But until that comes out I will amuse myself with Shop Like. At first I was a little unimpressed with the idea, but honestly it's nice to have a place where your favorite stores and brands are saved and you can browse them all at once! I can't tell you how many times I've looked for something on ShopStyle and ran through unchecking stores so I could only search at a handful of places.

Another cool feature is that you can also shop according to the brands and stores your Facebook friends like! I would take a screengrab of this, but it shows every's first and last names and I'm way to lazy to blur that!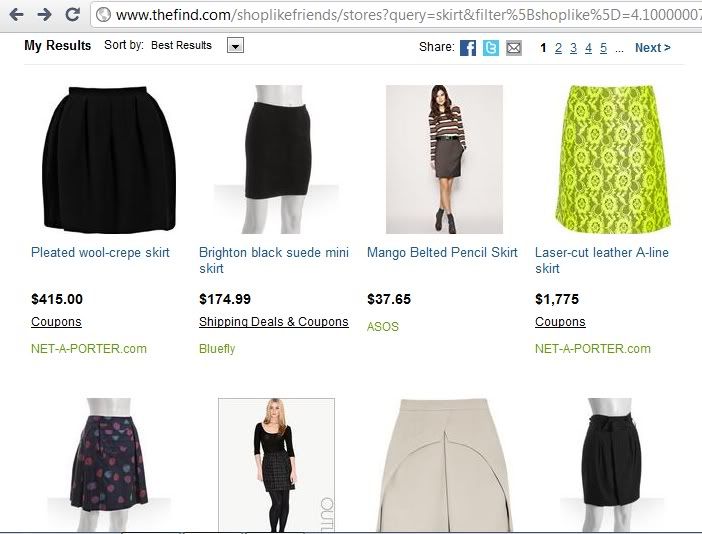 But I can show you what skirts miss Midtown Girl would possibly want to wear! Now I can steal her style, mwahahaha.
Finally, it's very interesting to see that they have a few featured shoppers! Now you can search through stores and brands preferred by Chictopia, Moxsie and Bag Snob! And it looks like they're searching for others - think they accept nominations?

And sure, I'm definitely getting some Boutiques.com flashbacks, a site I haven't even looked at since I reviewed it. The search results are kinda meh and uninnovative. But the fact that you can log in using your Facebook account is nice, aren't you sick of creating hundreds of accounts all over? And it also uses "likes" you already created, so you're already good to go!
Have you tried Shop Like? What did you think?