I'm seriously beginning to wonder if 75% of my outfits are created with Wendy B in mind, either consciously or subconsciously! Either way, someone on Twitter said, "Go try double denim now, I dare you" and I decided to go for it...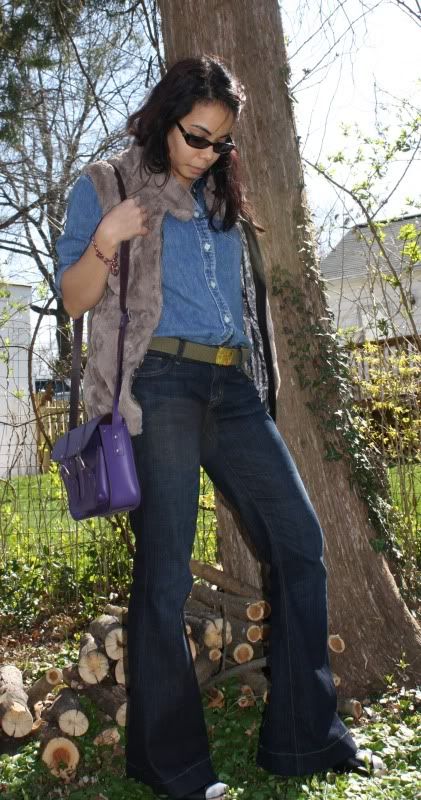 After all, this style challenge is all about me breaking out of my comfort zone! As I get more and more comfortable with mixing bold colors and prints, wearing statement accessories, etc, I need to continue to push myself. Seems like 2011 will be about trying out aesthetics I usually avoid, such as boho and western.

I must say I was surprised at how wearable this outfit was! In fact, it was a bit tame compared to some of my other looks, I almost felt a bit on the classic/preppy side, which was unexpected. So I threw on my faux fur vest in an attempt to look rugged frontiers woman, like how I posed in front of a our firewood for extra effect?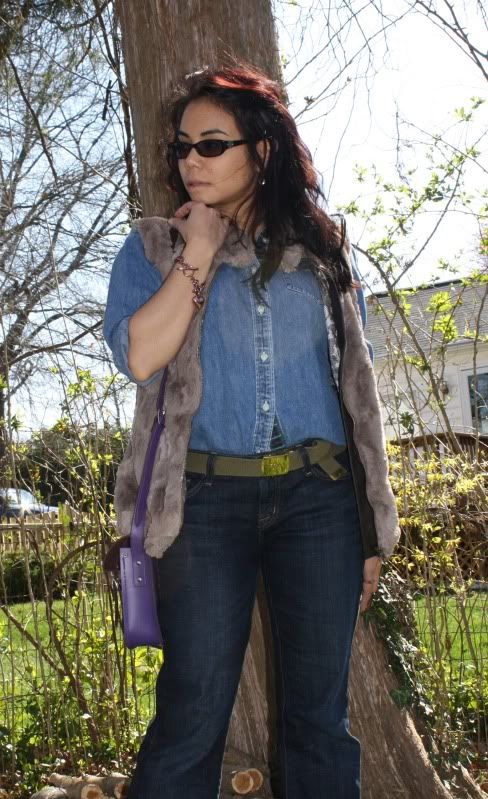 I'm wearing: Eddie Bauer denim button down, Hudson flared jeans from South Moon Under, National Park Service belt (I worked at one in VA during the summers during college), faux fur vest by Sanctuary, socks and Ecote platform sandals both from Urban Outfitters, Juicy Couture bracelet from IFB giftbag, Cambridge Satchel Co bag, Chanel glasses.