I officially own a pair of flatforms!! I know they look a little silly, but that's actually what I like about them! The Mr calls me Short Round when I wear them because it looks like I have boxes strapped to me feet, ahahah.
I think if I could have gone to Coachella (or any summer music festival!), I would wear an outfit like this. The dress is a super soft, loose jersey, so I don't sacrifice comfort while still standing out in a sea of cut offs. It's funny, it used to be a weirdly long length, hitting me around mid-shin. I never wore it because it looked like a nightgown, so I just chopped it off to mini length and now it's one of my favorites!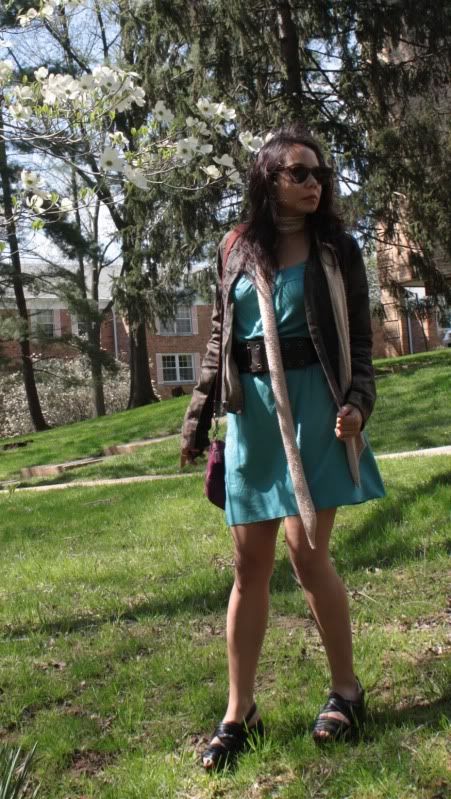 Then it's all about accessorizing! I have the flatforms and the dress came with the wide belt, but I knew I needed more. I grabbed my purple sude purse (love purple and teal together!), my distressed denim jacket, my dad's old Wayfarers and, the cherry on top, a sequined nude scarf! I thought about wearing a necklace and scarf, but I wussed out - should I have worn both??

I'm wearing: Dress with belt by Twelfth Street by Cynthia Vincent, Rick Owens Slab jacket from ideeli, Jeffrey Campbell flatforms from SoleStruck, Coach purse a gift from my sister, vintage Wayfarers stolen from my dad, Vampire Diana ring by Wendy Brandes, sequin scarf from J. Crew.