I want to thank all the fabulous people who came by the After 5 Event at Banana Republic last Thursday! You may remember the outfit I styled for the event, so I put it on and went out to meet people, have fun and put together great spring looks for people!
It was so awesome, particularly meeting my fellow DC fashion blogger hosts, So Much to Smile About, District of Chic and Project Beltway! They were super sweet, it was great to go through the store and start trying on various fun pieces with them - nothing better than shopping with the fashion-obsessed! I also met the super chic Megan Nielsen and Ana of DMV's Got Style - be sure to check out their sites and support the local fashion community!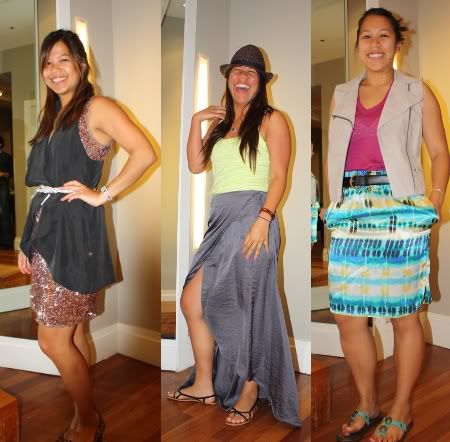 Julie, Monica and Seneca are some stylin' sisters in Banana Republic fashions!
Three beautiful sisters stopped by the store to check out the latest spring fashions and were nice enough to let me put some outfits together for them! For Julie I pulled a beautiful sparkly dress and ruffle front vest from the BR Monogram collection. Monica got an amazing wrap fishtail maxi skirt that I must find in petite, a neon yellow tank and a great panama hat. And Seneca rocked a silk ikat pencil skirt, pink top and super snazzy suede vest.
There was a lot a great fashion - tons of tempting pieces in great bright colors and fun prints that I had trouble resisting! Overall a really fun night, definitely stop by your nearest store and check out all the goodies!