Many of you know that I'll be getting married this fall! Well, the date is fast approaching and I've been getting tons done. But I still need to consider what my wedding band will be. To be honest, we didn't budget much for the bands, I plan on upgrading on the one or three or five year anniversary. So I'm looking for an interim band that's pretty and fun and will be wearable after I get a new band!

To be honest, I plan to continue mostly wearing my engagement ring. I adore it and do not like the idea of wearing it and my band on the same finger. I could switch it to my right hand, but my ring finger on the right is two sizes bigger than the left! And what does it matter? For me, the symbol of commitment came with the engagement ring, not really sure why there's a second at all. But I suppose I won't turn down more jewelry ;)

Since I doubt I'll often wear both at the same time, I thought maybe I can get a gold wedding band for when I want a different metal. I wanted something that felt simple and organic, but could pass for a regular ring once I get a new one. These are the two I've found so far: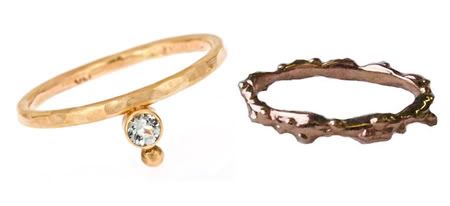 On the left is a gold and aquamarine ring by Christine Mighion. I like the hammered texture of the band and aquamarine is my birth stone! On the right is a rose gold ring by Tina Tang. I love rose gold and the liquid look of the piece!

So which do you think I should go with? If you have a recommendation yourself and it's under $250, leave it in the comments!!!