I was recently asked to participate in a Smirnoff DIY Challenge, and of course I said yes!! So they sent me a limited edition tee by Rachel Caldwell... in mens XXL! I may not be the craftiest person in the world, but I do have some basic sewing skills, so I decided to turn the tee into a muscle tee - my fave silhouette!
Starting Monday, you will be able to vote for me by liking my picture on the Smirnoff US fan page - I expect all of you to do so! If I win they'll donate $1,000 to the charity of my choice and I chose the USO. It's such a great organization, no matter how you feel about war I think we can all agree that our troops sacrifice a lot for us and deserve a little love in return.
I happened to spend Memorial Day at a USO Ride2Recovery kickoff event - a cycling event for wounded military to help them physically and mentally heal. Whenever I start feeling sorry for myself I think about a double amputee pedaling mile after mile and feel inspired. And more than a little teary eyed!
As far as my outfit, I admit I was somewhat inspired by the frontier, "True Grit" chic that's coming into style. Since I went to Austin a few months ago I started craving a cowboy hat - I finally went ahead and got one. Well, it's kinda a mix between a floppy wide brim hat and cowboy hat.
I think slave bracelets should make a comeback! Seriously, besides the awesome
Greyest Ghost
I haven't seen one in forever!!
I'm wearing: Rachel Caldwell tee courtesy of
Smirnoff
, vintage
Levi's
denim vest, printed skirt from
Madewell
, heels courtesy of
Payless
, scarf from
Nordstrom
, turquoise slave bracelet stolen from sister back in high school, hat bought at
Urban Outfitters
,
Marc Jacobs
belt, crossbody bag from
ShopBop
.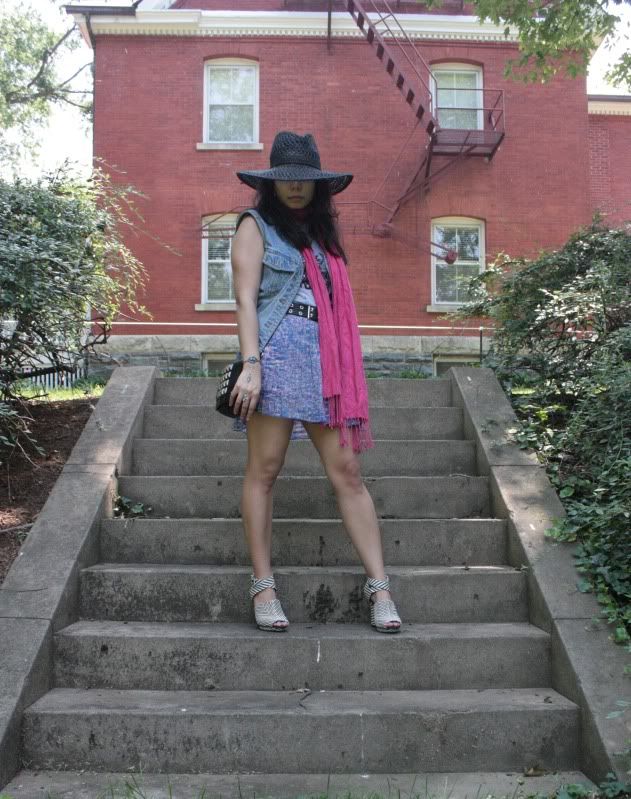 I have more limited edition tees to give away, stay tuned for a sweepstakes on Monday!