I have now gone to my first Swap!!! If you're not familiar with the idea, it's where everyone brings a bag of clothing she no longer wants, everything gets put out and then everyone gets to run around and grab free clothing! And anything left over at the end of the night would go to DC Goodwill.
I must say, I was very nervous, as I imagined there would be hoards of women stampeding around grabbing armfuls of clothing. Luckily I had time to grab a few drinks at the rooftop bar first to steel my nerves!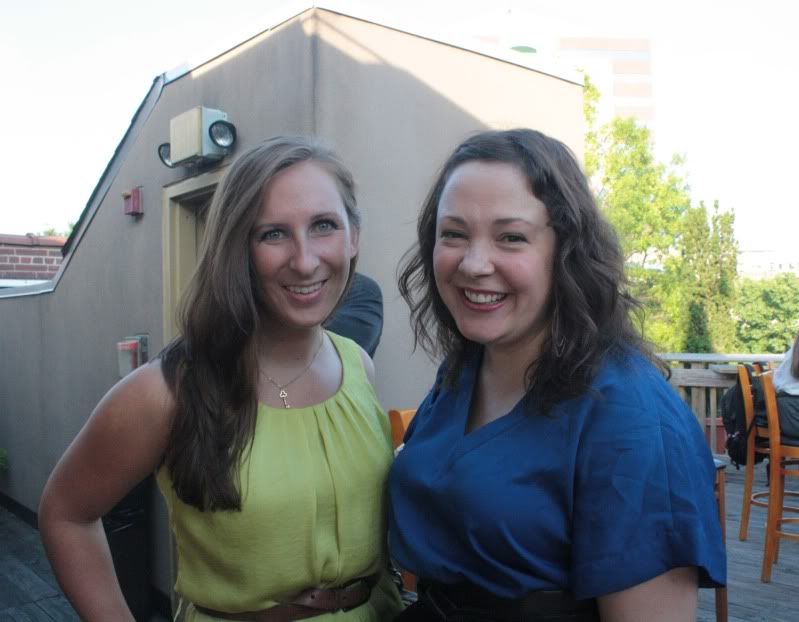 Up there I ran into the ever lovely Elizabeth of
So Much to Smile About
and Allie of
Wardrobe Oxygen
!
And I also saw bloggettes
Megan
& Liz of
District of Chic
! Blogger reunion, how happy!
We went back downstairs 30 minutes before the swap was to begin and I was scared again by the 100+ women all waiting to get in! They opened the room and we were off!
I must say I was a touch overwhelmed at first, and people scattered in different directions to start looking at clothing. I probably should have gone in with a game plan or at least an idea of what clothing I wanted, but I had no idea there would be so much stuff to look at!
As you can see some people were much more skilled and grabbing clothing than me!
But there was so much, I managed to grab a few cute things; I'm particularly excited about a mint green tank and sheer polka dot blouse - can't wait to style them! I must recommend attending one of these events, it's super fun and you clear out space in your closet for fun new things!