I mentioned before that I recently went to a vintage boutique's opening party. Full of local fashion fillies (I'm sick of the word fashionista and currently auditioning replacements), I was in a bit of a quandry of what to wear, luckily my overstuffed closet came to the resuce, with a super cute strapless dress I hadn't worn in two years!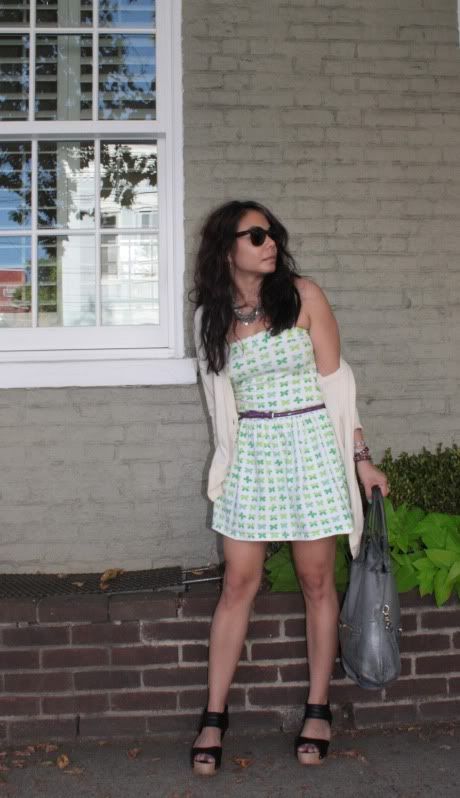 This may be the last time I wear it though. I just turned 27 for the fourth time and this dress is a bit tiny and young. It's a little depressing to have to start thinking about the age appropriateness of your clothing! What's your opinion?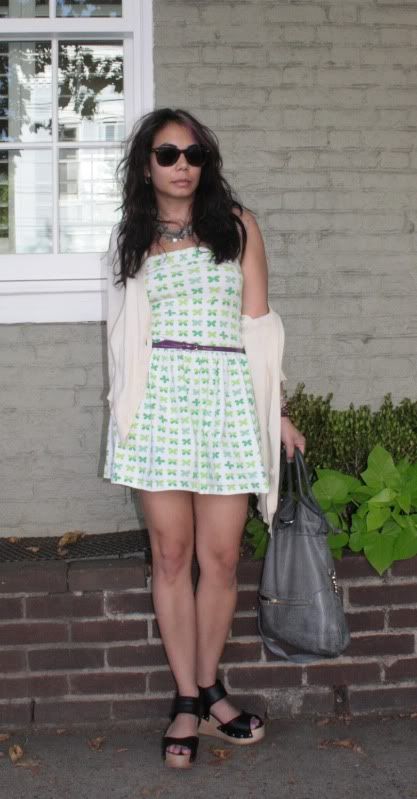 I do feel hot in it! I think this is due to my hair, which I've finally come to understand is naturally wavy. Rocking that tousled look is super fun!

I'm wearing: Helen Wang butterfly print dress from Bluefly, cardigan from Anthropologie, H&M purple belt, wrap bracelets from J. Crew, silver necklace courtesy of LOFT, Foley + Corinna purse, Ecote sandals from Urban Outfitters and my dad's vintage Wayfarers.

I'm ready to go, wheee!