Yesterday I wore some of the most basic clothing I own: a t-shirt and a knit pencil skirt. And I thought it could be fun to show you how I managed to take boring pieces everyone owns and make them fashion blog worthy by accessorizing!!
First up is the base! I'm wearing a James Perse tee (seriously guys, James Perse is actually worth the prices!) and a Gap knit pencil skirt. Let's be honest, most women would throw on a pair of black pumps and head to the office in this, even me a few years ago - boo on that!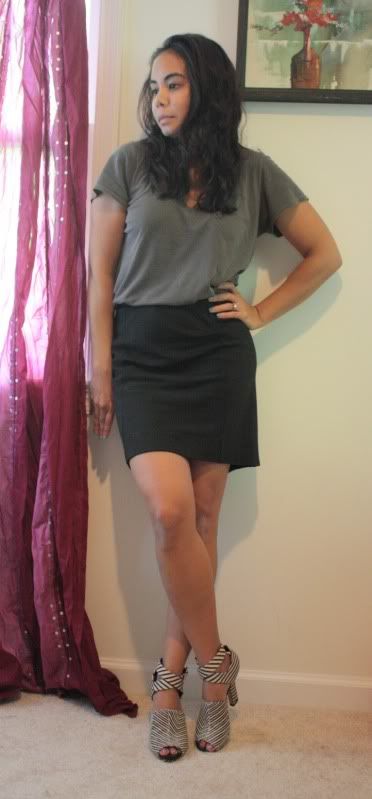 First step is wearing some fun and funky footwear! I honestly can't remember the last time I wore basic black shoes. These gifted Isabel Toldeo for Payless heels pretty much guarantee me compliments every time I slip them on! And I usually don't look cross eyed in them :P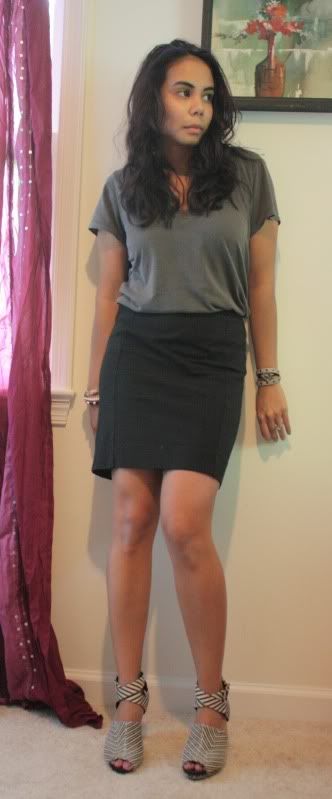 Step 2 is to put on some jewelry. I may be late to the arm party, but I got here!! I put on my two Juicy Courture braclets along with a pearl one from my mom, and a grey wrap bracelet from J. Crew and my vintage Gucci watch on the other wrist.
Hmmm, needs more jewelry! I added some pearl drop earrings from Anthropologie, a tourquoise lariat necklace from Urban Outfitters, and my Banana Republic stacking rings and a pretty pearl ring from my mom.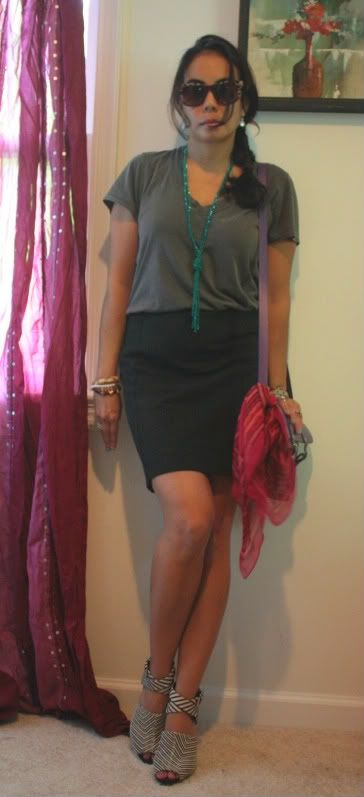 Next step... is this step 3 or 4? Let's call this step 3.5 Time for the finishing touches! A Cambridge Satchel in fun purple with a striped red scarf tied on, some sunglasses from the Betsey Johnson NY fashion week show and a messy side braid complete the look - what a transformation!!!
No, I wouldn't get chased down by street style photographers, but I look stylish and put together without breaking the bank. So no more excuses, it's time to step it up to the next level!