I spent this weekend at the beach with some lovely ladies for my bachlorette party! I decided to do a swimwear outfit post - you can still look stylish while being sun and surf ready!
I used to be obsessed with bikinis - at one point I think I owned maybe 14! I've managed to get my addiction under control, partially due to this suit. I mean, it's so amazingly fabulous, why would I need any others?? I love the colors so much and it's the only triangle top that provides support like it has underwire!

Don't forget about accessorizing a swim look. I know that being out in the elements and accessories don't always mix, but there are still a few swimwear basics you'll probably want anyway, so why not make them cute? Certainly a bag of some sort - don't just grab the ugly free tote you got at a conference 10 years ago, look for something functional and cute! And of course you want a coverup - there are a bazillion cute ones out there! And everyone should bring a hat to the beach. Add some cute sandals, maybe a minimal necklace and your shades... See how just those items take you from bathing suit to complete look??

I'm wearing: ViX bikini, cowboy hat from Urban Outfitters, oversized, thin cardigan from Anthropologie, DV by Dolce Vita sandals from ideeli, gifted Dogeared Karma necklace, Tom Ford sunglasses, beach bag from a Hanii Y fashion week presentation many seasons ago!

Looky, I found you all oodles of options at various price points!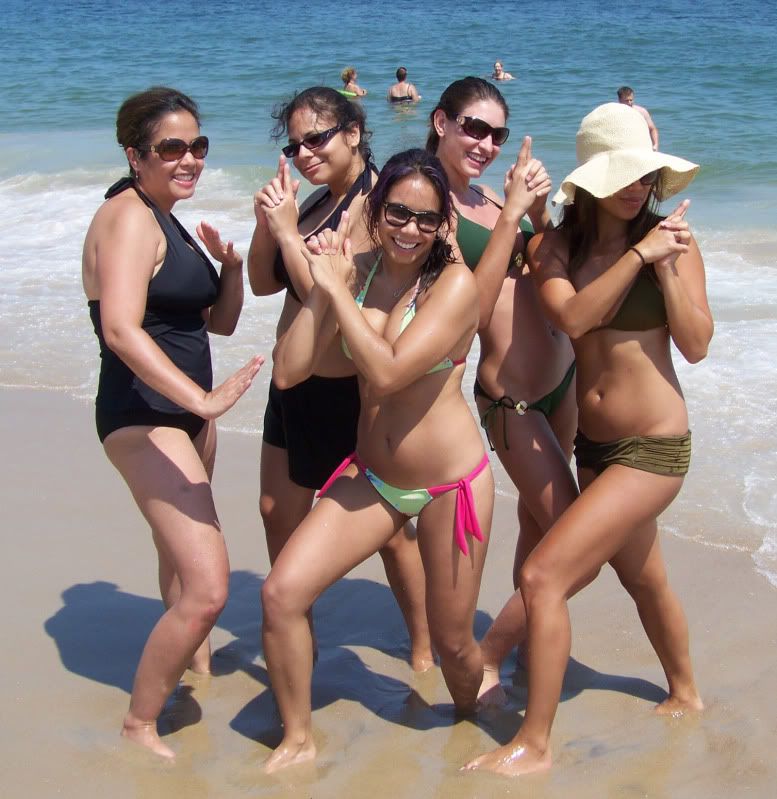 Her I am with my lovely bridal party - thanks so much for the great weekend, ladies!!!