Yesterday was my bridal shower!! Of course what I wore was a huge planning aspect for me, as my fabulous bridal party took care of everything else! I had been following my clothing budget so well, but deciding to shop for this event has really thrown me off track! But do you think worth it?

Stupid tree creating lighting troubles! You still get a sense of my outfit though, yes? I did my best decrease the contrast of the light and dark patches without totally washing out the picture.

It was a proud day for this jewelry phobic fashionista! I'm wearing almost every pearl necklace and bracelet I own; thank you to all the personal style bloggers who inspired me to get out Wuss City and join the arm and neck parties, particularly Man Repeller and Atlantic-Pacific!

I'm wearing: 2007 Mara Hoffman seersucker dress from Second Time Around, knotted pink blouse and nude shoes from BCBGMAXAZRIA, pearl necklaces from my mom and aunt whenever they come back from a trip to the Philippines, earrings a gift from my sister, Chanel purse from Portero. Two rings from my mom, stacking rings from Banan Republic. Bracelets: heavy pink chain, pink & gold chain, purple & pink bracelets all by Juicy Couture. Two leather wrap bracelets from J. Crew. Pearl bracelet from my mom. Black studded bracelet is Jimmy Choo for H&M. Vintage Gucci watch. Green glass bracelet bought at street fair. Whew!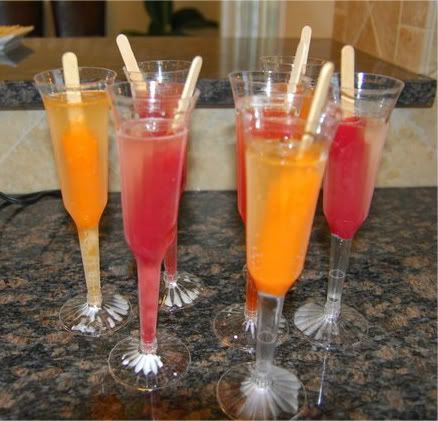 I recommend everyone try champagne and popsicles!

I actually did my hair too! I'm very much a bed head kind of girl, so it was definitely a differently look for me - so happy I tried something new.

I had an amazing day with my friends and family, HUGE thanks to my sister, Alex, and my lovely best friends, Judy, Julie and Alyssa!