I'm frequently inspired by the outfit posts of other fashion bloggers. Today I was inspired by The Coveted's recent Transitional Style post, where Jennine wore a blouse under a shift dress! I was like, "Holy moly that never occurred to me! A new way to wear clothing, hooray!" And so...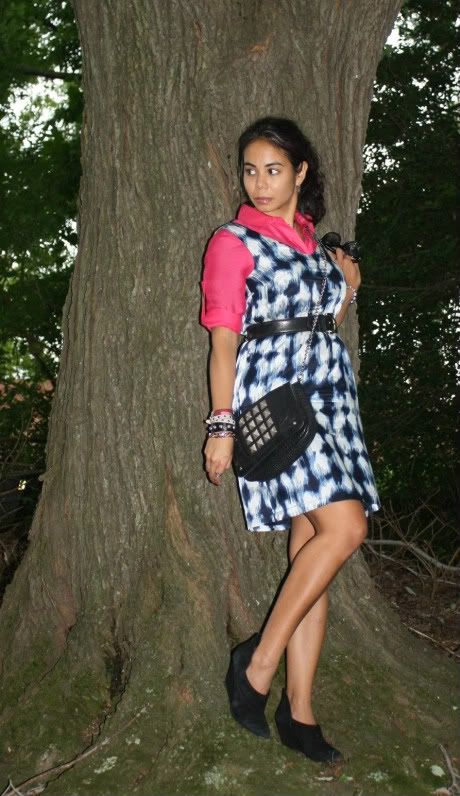 I was a little concerned that the look would come off as schoolgirl pinafore, so I made sure to balance out the sweetness with some tough accessories.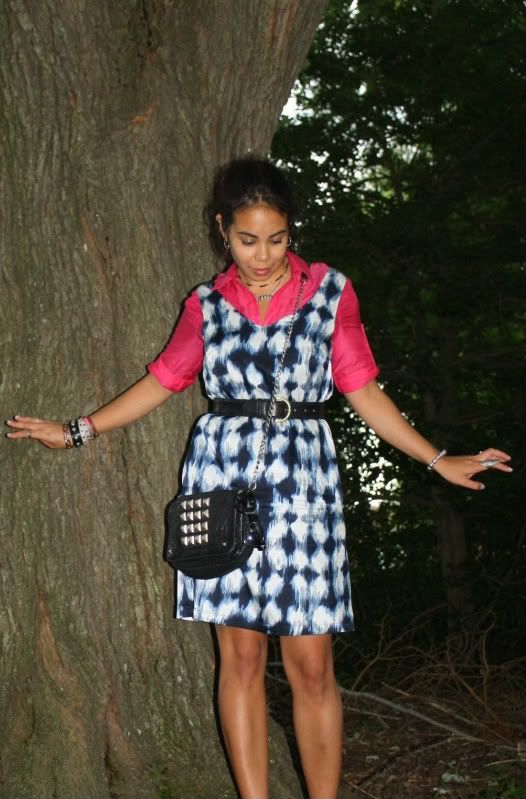 I'm wearing: H&M dress courtesy of a giftcard, BCBG pink blouse, crossbody purse from ShopBop, Coach belt pilfered from my mom, P.A.M vampire necklace, black Express bead necklace, pink Juicy Couture chain bracelt from IFB Con, Jimmy Choo for H&M black studded cuff, grey J. Crew wrap bracelet, pink studded and chain wrap bracelet also from Juicy Couture, silver beaded bracelet from Venexiana fashion show, long silver ring from Forever 21.
A close up of me stacking some bracelets - I'm doing much better on that front since I broke my wuss seal! In fact, it's rare that I don't layer on at least two now :)

I feel like I need to pose better - this is my attempt at a fashion editorial model pose - I look like I'm trying to not wet myself, don't I? Ah well, at least my legs look good!